By Jae Jun
Tuesday, 10 November 2009 03:00
Insmed Incorporated (NASDAQ:INSM) continues to be a Benjamin Graham Net Net Stock. As I mentioned in October, I was waiting for the quarterly results to be released before I taking further action.
INSM Still a Net Net Stock
After a full quarter, INSM still remains a "net net stock"; selling below liquidation prices despite the market run up during October.
The company is a biopharmaceutical company with expertise in recombinant protein drug development.
On February 12, 2009, the company sold all of its assets related to its follow-on biologics ("FOB") platform to Merck for $130m. The manufacturing facility and equipment went with the sale. Insmed's only remaining source of income is from its Myotonic Muscular Dystrophy treatment called IPLEX, but since the manufacturing facility was sold off, production has been ceased. Insmed only has enough inventory to last at most 2 years with 70 patients worldwide.
However, the company is involved in researching the use of IPLEX for an Extended Access Program (EAP) for Amyotrophic Lateral Sclerosis (ALS). They obviously have to go through the different phases of testing and so far they are preparing for phase II to treat ALS patients. When is totally up in the air.
My initial cost basis of Insmed was at $0.86 based on a liquidation value of $0.91 at the time, a look at the financial statements will provide a good indication of whether it will be worthwhile to double down on my existing small position or just hold onto it until more information breaks out.
Q3 Recent Developments
In my initial stock analysis of INSM, I stated my concern the company may easily burn through its cash received from the sale of its follow-on biologics (FOB) to Merck (MRK). I'll get to the detailed numbers later.
On the conference call, there was no Q&A session but a lot of the topics that people would have obviously asked were addressed. The most interesting point to note was that the board mentioned a merger or reverse merger.
This is something more similar to the impression I received in my initial analysis. INSM is basically running like a shell company. Lots of cash, a single product but no way to leverage it to its potential in its current state.
Since the company is looking to increase "shareholder value", a buyout is unlikely as current prices does not offer much shareholder value at all. It also seems like the board is more interested in continuing the operations of the company in some form or other.
I could endlessly continue speculating whether the company will merge or sell itself, but that isn't what's important. Analyzing the financial statements to determine whether I can maintain my position is more important. The undergoing strategic review and results will come, it's just a matter of time.
INSM Financial Statement Analysis
Since INSM has changed dramatically since one year ago, it's pointless to compare with previous years. Right now, the focus has to be on quarter versus quarter.
Income Statement Analysis

(Click for larger versions of images)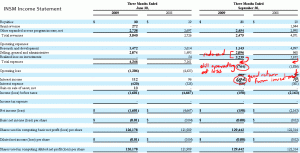 Since the company's only product, IPLEX, is being conserved for existing ALS patients, revenues decreased.
SG&A is still fairly high due to the legal fees but reduced due to external finance, legal and consulting services with the ongoing strategic review.
Lower R&D expense now that FOB has gone to Merck.
Interest income would be a low earnings quality in a normal company but for INSM, consistent interest income is a must. Increase is good.
Balance Sheet Analysis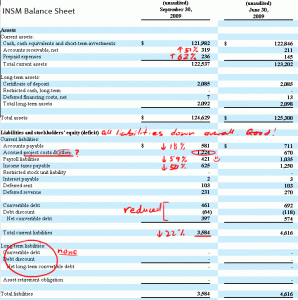 While accounts receivables and prepaid expenses went up, the big increase in percentage is because the numbers are fairly small so any small change will seem big. Compare this to the amount of decrease in liabilities.
Overall, liabilities decreased 22% compared to the previous quarter so the current management has been doing a good job.
Accounts payable is down 18%
Payroll liabilities down 59% now that there are only 15 full time employees
Big reduction of income taxes. Probably due to the lack of revenue from now on.
Cash Flow Statement Analysis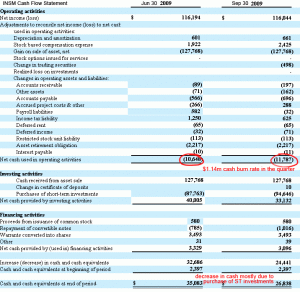 When looking at the cash flow statement, keep in mind that the numbers are for the past 6 months' and 9 months' total cash flows. These numbers are not stated value except for certain items.
No warning signs in the cash flow statement. The cash burn seems to be steady at around $1m per quarter. i.e. at this rate, the company can basically keep the company going as it is for the next 110 quarters, which is 27 years. But that's just a hypothetical number. Either way, I know INSM can stick around for a long time without going bankrupt.
The only reason why the cash at the end of period is reduced is because the company purchased more short term investments. As long as they are safe investments, I'm fine with it.
INSM Stock Price Calculation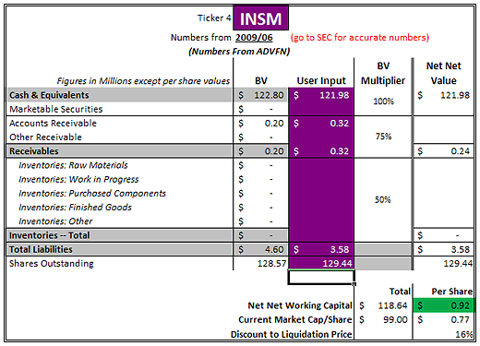 INSM's current stock price is still below net net working capital by a decent amount. I still believe it to be very undervalued.
There is no point in running the discounted cash flow spreadsheet because I have to view INSM as a quarter by quarter basis. No reason to try and project cash flows. The same reason goes for the Benjamin Graham spreadsheet.
However, I can use an EPV valuation because the valuation technique looks at a snapshot of the company's value at a specific given time.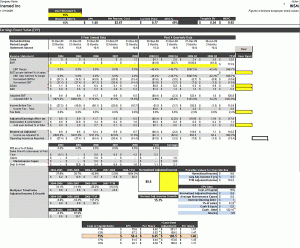 With a quick earnings power value, the value comes out to $1.40.
Considering all the numbers and the current situation of the company, I was quite glad that the company is operating better than I expected. While the company is losing money, it is being offset by reductions in expenses as the business continues to wind down. While a buyout isn't as likely, any good news, however small, should send INSM back to shareholder value recovery.
The current valuation is very cheap compared to even the worst distressed situation so there is plenty of margin of safety.
INSM is still a small part of my portfolio but I doubled my position after earnings and am considering building a larger position.
Disclosure: Long INSM

Jae Jun is a graduate of The University of Sydney, Australia and is an engineer for a global fortune 500 company in the telecommunications industry. Jae Jun searches to capitalize on any company being offered at a discount with valuable insights to tech companies. His philosophy is "a stock is a small piece of a company and investors are business partners".
He authors the popular blog: OldSchoolValue.com
"Featured Content" profiles are meant to provide awareness of these companies to investors in the small-cap and growth equity community and should not in any way come across as a recommendation to buy, sell or hold these securities. BiomedReports is not paid or compensated by newswires to disseminate or report news and developments about publicly traded companies, but may from time to time receive compensation for advertising, data, analytics and investor relation services from various entities and firms. Full disclosures should be read in the 'About Us Section'.
---
Add this page to your favorite Social Bookmarking websites

---