Thursday, 24 December 2009 13:21
Since I first wrote about my
idea for a new generic drug exchange-traded fund
(
ETF
) nearly two years ago, the global index of 80 stocks has been a strong performer as it catches up with the strong underlying fundamentals for the generic drug industry which are outlined below.
1.) approximately 70% of all prescriptions in the U.S. are filled with generic drugs;
2.) IMS Health estimates $135 billion in branded drug sales (including $90 billion in U.S.) will face generic competition / patent expiration over next five years (including blockbusters such as Lipitor and Plavix);
3.) IMS Health estimates $42 billion in global generic drug sales in 2011, representing growth from an expected $28 billion in global sales in 2009 and $17 billion in 2008;
4.) IMS Health estimates that the generic drug industry is growing at 7.8%, which is a faster pace than the worldwide market for pharmaceuticals; and
5.) the National Association of Chain Drug Stores estimates that in 2007 the average retail price of generic prescription drugs was $34.34 as compared to a much higher (over 3X) average price for brand name drugs at $119.51.
1.) Derive either $500 million (
USD
) OR more than 50% of trailing 12-month revenue from the manufacture and sale of any type of generic (off-patent) prescription or over-the-counter (
OTC
) drug product intended for use by humans, including contract manufacturing services, active pharmaceutical ingredient (
API
) suppliers, and intermediate product suppliers for drug products and biological agents;
2.) Have one or more compound(s) in active clinical development OR have a pending ANDA with the FDA for a generic drug candidate; and
3.) Receive FDA approval for an ANDA within the past 12 months. The index excludes all companies that derive over 50% of trailing 12-month revenue from the sale of patent-protected or legacy brand prescription or OTC drug products.
Approximately 75% of the companies in the index are based outside of the U.S. (including many small / mid-cap stocks based in China and India), which strengthens the case for a Global Generic Drug ETF since it would provide average retail investors with a cost-efficient means to trade the entire industry in a single investment vehicle.
The accompanying tables include statistics for a semi-active generic drug ETF that would be rebalanced on a quarterly basis and equally weighted among active components with a market cap of at least $200 million and three-month average daily trading volume of at least 30,000 shares, in addition to the 15 largest index components by market cap.

As of late November, 55 of the generic drug index component stocks met these requirements with an average stock price gain of approximately 95% over the past year and over
15% gain for the entire index in the past three months
. Generic drug stocks have outpaced the overall healthcare sector and related ETFs, such as the PowerShares Dynamic Pharma (
PJP
), iShares DJ US Pharma (
IHE
), Pharma HOLDRs (
PPH
), S&P Pharma SPDR   (
XPH
), Healthcare Sector SPDR (
XLV
), iShares Nasdaq Biotech (
IBB
), and SPDR S&P Biotech (
XBI
).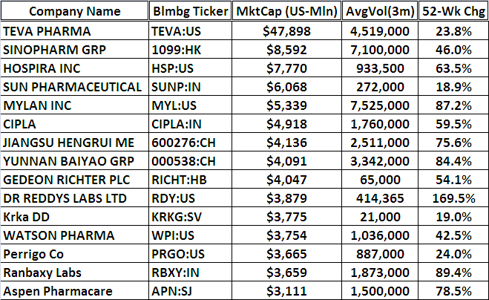 A Global Generic Drug ETF would also provide instant, diversified access to the small / mid-cap generic drug makers and suppliers that are tracked in this index and the subject of possible acquisitions by leaders in the industry such as Teva Pharma (
TEVA
), Mylan (
MYL
), Watson Pharma (
WPI
), and even big pharma companies such as Novartis (
NVS
) and Pfizer (
PFE
) that have significant generic drug divisions.
Disclosure: No positions
"Featured Content" profiles are meant to provide awareness of these companies to investors in the small-cap and growth equity community and should not in any way come across as a recommendation to buy, sell or hold these securities. BiomedReports is not paid or compensated by newswires to disseminate or report news and developments about publicly traded companies, but may from time to time receive compensation for advertising, data, analytics and investor relation services from various entities and firms. Full disclosures should be read in the 'About Us Section'.
---
Add this page to your favorite Social Bookmarking websites

---