By M.E.Garza
Friday, 21 January 2011 06:27
Dr. Isa Odidi of Intellipharmaceutics (IPCI) is easily one of the sector's genius drug delivery innovators. While he was at Biovail (BVF), Odidi was performing drug alchemy with formulations that mimicked several hard-to-manufacture generic versions of expensive drugs- among them, Pfizer's (PFE) Procardia XL, Bayer's (BAYRY.PK) Adalat CC, and Novartis' (NVS) Voltaren XR. While serving as the company's Vice President of Research of Drug Development and New Technologies he helped grow Biovail through its adolescence.
As difficult as the scientific process was, the business plan was simple. Odidi and his team worked out the chemical composition to develop the drugs and pushed their versions through the regulatory process at the U.S. Food and Drug Administration. Once approved, the company licensed the drugs to different companies and collected royalties. While Odidi perfected his science and learned to navigate the FDA process, Biovail grew into a 10+billion market cap company.

You'd never notice him if you passed the Nigerian-born CEO on the street. Odidi is a quiet man whose demeanor and smile tend to understate his achievements and brilliance. His work has been cited in textbooks, scientific and medical papers and countless articles, but it was his work at Biovail that caught the attention of Wall Street after he first founded Intellipharmaceutics as a private company with his wife and colleague, Dr. Amina Odidi (an accomplished formulator and scientist who some often refer to as the company's Secret Weapon), in 1998.

Several financiers and investors with an eye for developing publicly traded companies recognized that Odidi and his unique talents as a master formulator might be worth a bit more than a paycheck- perhaps billions more. Through a carefully crafted reverse-merger in 2009, they helped take the company public and now, after careful incubation and lab work, it appears their bet on Odidi is about to pay off in multiple ways.
"We looked at what was happening in the generic space and we thought it was crowded by people who were doing things that were easy to do," explains Odidi when interviewed about the birth of his own company. "And so we tried to find a new niche where we could be competitive."
That niche was targeted and controlled released drugs using a proprietary Hypermatrix technology.
"As a result we are going after very difficult to make products," explains Odidi. "And the reason we chose to go this route is there are not many competitors playing in this field."
While most drug delivery companies deal in three-dimensions, Odidi decided to expand his vision and approach to drug composition by introducing a fourth and fifth dimension: space and time. "After all, we are in the time release business, so we should be looking at how to control time," says Odidi.
The result is what Odidi calls "super generics" - very good copies of drugs that are about to come off-patent and aim to make the original drug formulation better. According to Odidi, the technology allows him to deliver any active pharmaceutical ingredient to the body in the right amount at the right time.
As a result, Intellipharmaceutics has now filed approximately $6 billion of generic controlled released drugs with the FDA to date.
In anticipation of several key events, biotech investors have begun to buy up whatever shares they can get. Since we highlighted the company to our subscribers days ago, shares have nearly doubled and they look to go much higher for one simple reason. The float of available shares is nearly non-existent and those who have managed to purchase shares are simply not letting them go. The result is a developing "load and lock" investment play not unlike the one we saw when shares of a bankrupt Vermillion (VRML) go from pennies to over $30 per share based on a single catalyst event- an FDA approval last year.
If you look under the hood, IPCI has a nearly identical number of shares outstanding and a growing number of hands that are buying as many shares as they can with both hands as they eyeball a list of multiple drug candidates and a stream of anticipated 2011 events that may fast track the young company into a generics powerhouse:
Pending approval of Dexmethylphenidate XR, a generic version of the marketed Novartis drug Focalin XR®, which IPCI partnered with Par Pharmaceutical (PRX). The drug is currently the subject of an Abbreviated New Drug Application (ANDA) filing with the U.S. Food and Drug Administration. Because the Generic Division of the FDA does not issue PDUFA action dates, the timing for a decision on the company's filing for the drug is not listed on biotech catalyst calendars. Savvy speculators have started placing their bets, nonetheless. The patent litigation designed to slow the approval process was paid for by Par and settled last March (at the time, the stock ran from approximately $1.50 to $5 on news of the settlement. Today the stock is starting to break out beyond those previous highs).


Licensing deal for Effexor- a $3.8 billion brand sales drug that was developed by Wyeth (WYE) and subsequently acquired by Pfizer is used in the treatment of major depressive disorders. The FDA accepted IPCI's ANDA last May and credible sources tell BioMedReports that several companies are interested in licensing the generic as they believe they can capture a healthy share of the market. Conservative estimates place that share at $600 million with potential royalty revenues to IPCI of $30 to $120 million.


Licensing deal for Protonix- a $1.8 billion brand sales drug that is indicated for conditions associated with GERD (i.e. ulcers). Just weeks ago, the company notified the FDA that it has not received notification, as provided for under the Hatch-Waxman Act, of any patent infringement proceedings by the brand owner, Wyeth Pharmaceuticals, Inc., a wholly-owned subsidiary of Pfizer, Inc. Investors now know that Intellipharmaceutics will not be subject to the automatic 30-month stay of FDA approval to market the product and that has potential suitors swirling to make a deal which could net them an estimated $450 in sales with potential royalty revenues to IPCI of $22.5 to $90 million.


Investors are excited about the potential NDA filing with the FDA for Abuse Resistant Oxicontin. Controlled-release oxycodone drugs had U.S. sales of approximately $2 billion and IPCI's drug delivery platform, branded Rexista is a novel dosage form (paste in a capsule) designed to be deterrent to the well-documented abuses - including nasal inhalation when crushed or powdered, and by injection when combined with solvents. In May the company advised investors that it had taken delivery of and fully qualified its primary manufacturing equipment for the manufacture of the abuse-deterrent formulation and that the manufacture of clinical batches using that equipment had commenced. It is worth noting that the company's Rexista technology is applicable to additional opioid drug candidates like oxymorphone, hydrocodone, and morphine.
As the technical analysis chart below shows, the stock is primed to continue running higher - especially when you consider that prices are now within acceptable ranges for institutional investors and funds who may have been either hesitant or simply unwilling to jump in previously.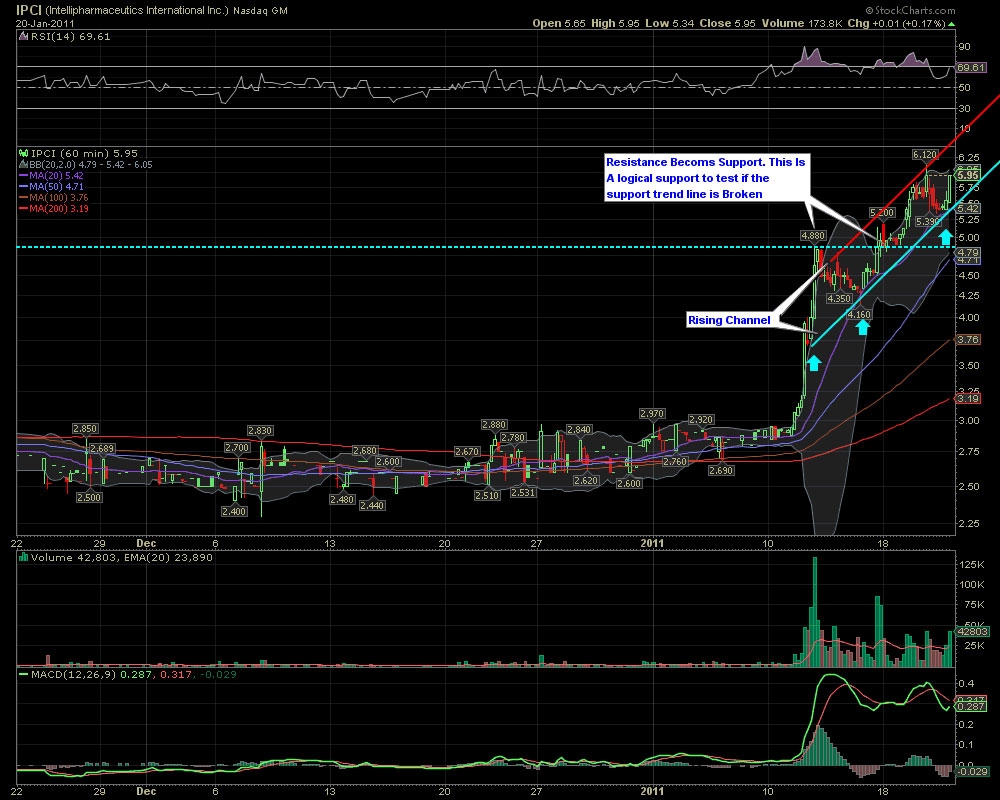 (Click to enlarge)
In addition to everything else, we fully expect Intellipharmaceutics' news flow to exceed the expectations outlined in this report given the fact that the company has a pipeline of twelve more drugs in various stages of development with a portfolio of 30+ patents issued and pending. Good luck finding a few shares to stash away.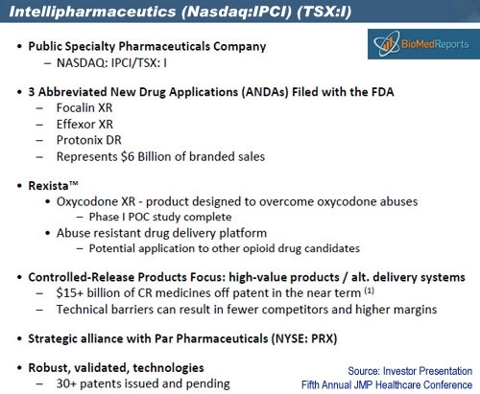 Disclosure: Long IPCI
"Featured Content" profiles are meant to provide awareness of these companies to investors in the small-cap and growth equity community and should not in any way come across as a recommendation to buy, sell or hold these securities. BiomedReports is not paid or compensated by newswires to disseminate or report news and developments about publicly traded companies, but may from time to time receive compensation for advertising, data, analytics and investor relation services from various entities and firms. Full disclosures should be read in the 'About Us Section'.
---
Add this page to your favorite Social Bookmarking websites

---