By M.E.Garza
Tuesday, 08 November 2011 09:53
Shares of BioCryst Pharmaceuticals, Inc. (NASDAQ:BCRX) rose as high as $3.14 in early trading on Tuesday after the company presented new results from its Phase 2b randomized, double-blind, dose-response study of BCX4208 in patients with gout who have failed to reach the clinically important serum uric acid goal of <6 mg/dL on Allopurinol.


Allopurinol is used to treat gout, high levels of uric acid in the body caused by certain cancer medications, and kidney stones. Allopurinol is in a class of medications called xanthine oxidase inhibitors. It works by reducing the production of uric acid in the body. High levels of uric acid may cause gout attacks or kidney stones. Allopurinol is used to prevent gout attacks, not to treat them once they occur.


The firm thinks the results are important enough that they scheduled a conference call separate from the Scientific Meeting to discuss the BCX4208 results. The Company's CEO, Jon Stonehouse, said the firm is looking for a partner to license its experimental treatment for a painful form of arthritis that attacks men over 40.

Stonehouse, a former executive at Germany's Merck KGaA, thinks he has an attractive product to offer a development partner. He says he has a drug with a market potential of at least $500 million for a patient population that is growing.

There are more than 8 million Americans in the US with gout, a number that's expected to rise to 9.6 million by 2015, he says. Gout mostly strikes men over the age of 40."Gout is a disease getting a lot more attention," he says.

The results were accepted as a late-breaking oral presentation titled "BCX4208 Combined With Allopurinol Increases Response Rates in Patients With Gout Who Fail to Reach Goal Range Serum Urate on Allopurinol Alone: A Randomized, Double-Blind, Placebo-Controlled Trial" at the 2011 American College of Rheumatology and the Association of Rheumatology Health Professionals Annual Scientific Meeting.

This Phase 2b study randomized 279 patients to five study arms: BCX4208 at doses of 5 mg, 10 mg, 20 mg, 40 mg and placebo, administered once-daily for 12-weeks. Allopurinol 300 mg once-daily was administered in all study arms. The primary study endpoint was the proportion of patients with sUA <6 mg/dL at day 85. The mean baseline sUA for the randomized population was 6.9 mg/dL.

The primary endpoint of the study was successfully achieved. BCX4208 doses evaluated in the study showed response rates ranging from 33% to 49%, approximately doubling the proportion of patients reaching goal on placebo (18%). BCX4208 added to allopurinol was generally safe and well-tolerated at all doses studied.

"This important study demonstrates that low doses of BCX4208 combined with allopurinol safely and significantly increase the proportion of patients reaching therapeutic goal compared to 300 mg allopurinol, the most commonly prescribed dose in the U.S. The study population was representative of the general gout population, and included patients with mild renal impairment, kidney stones and other co-morbidities," said lead investigator for the study, Michael Becker, M.D., Professor Emeritus of Medicine, University of Chicago. "These encouraging safety and efficacy results support the continued development of BCX4208 added to xanthine oxidase inhibitors such as allopurinol, and the advancement of BCX4208 into Phase 3 studies."

According to an SEC filing tracked in our BioMedReports FDA Calendar since earlier this month, the Company is also conducting a Phase I study to evaluate the metabolic profile of BCX4208. Results from both of Phase IIb and Phase I studies are expected in January 2012.

Other catalysts which we are tracking for BCRX include an update for BioCrysts's peramivir Phase III study. The ongoing, multicenter, randomized, double-blind, controlled study is set to evaluate the efficacy and safety of 600 mg i.v. peramivir administered once-daily for five days in addition to standard of care (SOC), compared to SOC alone, in adults and adolescents who are hospitalized due to serious influenza.

BioCryst uses structure-based drug design, which incorporates multiple scientific disciplines including biology, crystallography, medicinal chemistry and computer modeling, in order to most efficiently develop new therapeutic candidates. The company's structure-based drug design involves the integrated application of traditional biology and medicinal chemistry along with an array of advanced technologies, including X-ray crystallography, combinatorial chemistry, computer modeling of molecular structures and protein biophysical chemistry, to focus on the three-dimensional molecular structure and active site of the active site of the target enzyme.

From a technical standpoint, the bottom end of the stock's rising trading channel appears to have held after a spree of recent selling. Watch for news to see if the support level breaks down or more buying and rising strength come in. Remember that BCRX shares were headed higher before most of the stock market's equities erased a morning advance after investors struggled to predict what Italy's budget vote meant for the country's credit worthiness.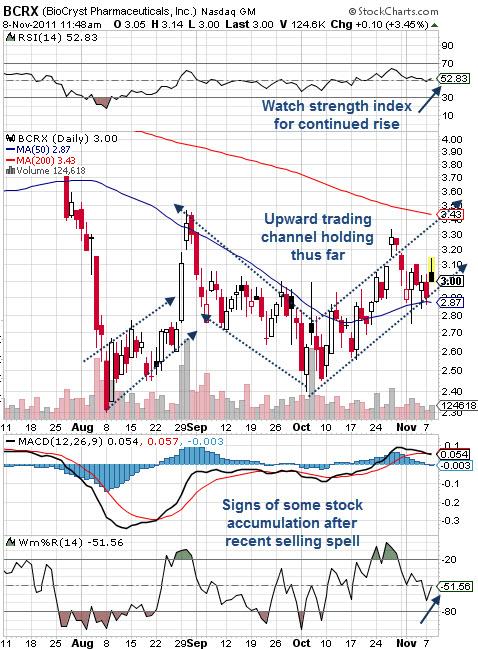 BioCryst's other product is Forodesine, an orally-available PNP inhibitor for hematological malignancies. The Company has collaborations with Merck KGaA, Hikma Pharmaceuticals (LSE: HIK.L ), moksha8 Pharmaceuticals, Inc., NT Pharma (Holdings) Company Limited, Neopharm Ltd., The U.S. Department of Health and Human Services, and others. BioCryst is in a race with Ardea Biosciences (Nasdaq:RDEA) to bring a better gout medicine to market. Shares of that company were down 3% on the news.

Currently, the stock is trading at nearly a 50% discount from their 52-Wk High ($ 5.86 ) with 34.30% of the company's 45.21M outstanding shares are being held by instituional investors. 20.47% of the shares are held by insiders.The top 10 registered institutional holders for the stock are as follows:
| | | | |
| --- | --- | --- | --- |
| | Institution Name | Reported Date | Shares Held |
| 1. | PRICE (T.ROWE) HEALTH SCIENCES FUND | 6/30/2011 | 450,000 |
| 2. | VANGUARD TOTAL STOCK MARKET INDEX FUND | 6/30/2011 | 416,950 |
| 3. | ISHARES RUSSELL 2000 INDEX FD | 9/30/2011 | 372,519 |
| 4. | DFA U.S. MICRO CAP SERIES | 7/31/2011 | 368,706 |
| 5. | ISHARES NASDAQ BIOTECHNOLOGY INDEX FUND | 9/30/2011 | 276,611 |
| 6. | VANGUARD EXTENDED MARKET INDEX FUND | 6/30/2011 | 264,859 |
| 7. | ISHARES RUSSELL 2000 GROWTH INDEX FD | 9/30/2011 | 180,185 |
| 8. | COLLEGE RETIREMENT EQUITIES FUND-STOCK ACCOUNT | 3/31/2011 | 106,387 |
| 9. | DFA U.S. SMALL CAP SERIES | 7/31/2011 | 98,104 |
| 10. | BRIDGEWAY FDS INC-ULTRA SMALL COMPANY MARKET FD | 6/30/2011 | 90,894 |

Those wishing to participate in the conference call may dial 1-877-303-8027 (United States) or 1-760-536-5165 (International). No passcode is needed for the call. The webcast can be accessed by logging onto BioCryst's website at www.BioCryst.com. Please connect to the website at least 15 minutes prior to the start of the conference call to ensure adequate time for any software download that may be necessary. The presentation will be archived on the site and available for replay for at least 28 days.
Disclosure: None
"Featured Content" profiles are meant to provide awareness of these companies to investors in the small-cap and growth equity community and should not in any way come across as a recommendation to buy, sell or hold these securities. BiomedReports is not paid or compensated by newswires to disseminate or report news and developments about publicly traded companies, but may from time to time receive compensation for advertising, data, analytics and investor relation services from various entities and firms. Full disclosures should be read in the 'About Us Section'.
---
Add this page to your favorite Social Bookmarking websites

---