By M.E.Garza
Thursday, 10 November 2011 03:16
Shares of Furiex Pharmaceuticals (Nasdaq:FURX) have been pushing higher and just pushed past some resistance following some heavy insider buying and ahead of some clinical trial results.

Furiex' product pipeline includes: Priligy® (dapoxetine) is a drug specifically developed for the on-demand treatment of premature ejaculation (PE); Nesina® (alogliptin) is a member of a new class of drugs for the oral treatment of type 2 diabetes (T2D); Nesina® (alogliptin) in combination with Actos® (pioglitazone HCl), a single tablet for the treatment of type 2 diabetes; Nesina®, in combination with Metformin, used for the treatment of type 2 diabetes; Fluoroquinolone, used for the treatment of complicated skin and skin structure infections, such as abscesses that occur deep in the skin layers and respiratory infections; Mu Delta Receptor Agonist and Delta Opioid Receptor Antagonist, used for the treatment of diarrheal predominant irritable bowel syndrome (d-IBS); and PPD 10558 for the treatment of dyslipidemia.

Furiex' partners include: Pharmaceutical Product Development Inc and Takeda Pharmaceutical Company Limited.

This month has seen $4,310,002.63 worth of buying from various company insiders and our BioMedReports FDA Calendar and WorldWide Regulatory Catalyst Tracker is showing several upcoming catalysts for the company, including a planned NDA submission in Europe by their partner Takeda Pharmaceutical (OTC:TKPYY.PK) for drug candidate SYR-322.



SYR-322 is one of the DPP4 inhibitors for the treat-ment of type 2 diabetes and it has seen a long road through the Pipeline. Phase 3 studies were conducted globally and Takeda is said to be particularly excited about the quality of this program.

DPP4 inhibitors, taken orally, block the degradation of GLP-1 (Glucagon-like peptide-1), and help to maintain the concentration of GLP-1 in blood for a longer period of time. This is important because GLP-1 stimulates pancreatic beta cells to increase the secretion of insulin, and GLP-1 has the potential to improve beta cell function itself. Therefore, DPP4 inhibitors may represent a new generation of oral agents for diabetes treatment. See this additional information about Takeda's recent DPP4 news.

Another catalyst which we have tracked from an SEC filing which took place in September of 2010 indicates that the firm has pending Phase II trial results for JNJ32729463 as an indication for Community Acquired Bacterial Pneumonia.

We are tracking as many as seven additional milestones for the Company scheduled to take place in 2012 and it certainly appears that those in the know are buying with confidence.

Earlier this month, the firm announced that third quarter 2011 royalty revenue of $1.3 million, an increase of $0.4 million from second quarter 2011 and that they had a balance ot Cash, cash equivalents and short-term investments of $54.8 million as of September 30, 2011.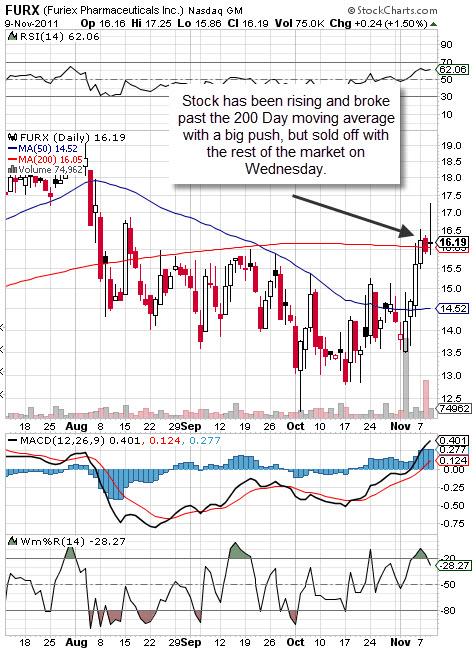 Disclosure: None
"Featured Content" profiles are meant to provide awareness of these companies to investors in the small-cap and growth equity community and should not in any way come across as a recommendation to buy, sell or hold these securities. BiomedReports is not paid or compensated by newswires to disseminate or report news and developments about publicly traded companies, but may from time to time receive compensation for advertising, data, analytics and investor relation services from various entities and firms. Full disclosures should be read in the 'About Us Section'.
---
Add this page to your favorite Social Bookmarking websites

---