By M.E.Garza
Thursday, 15 December 2011 08:44
Shares of Aastrom Biosciences (NASDAQ:ASTM) have been on the slide since mid-November when the company announced that its cell therapy Ixmyelocel-T proved safe in a mid-stage clinical trial and helped delay some symptoms of critical limb ischemia, a severe form of peripheral arterial disease, in patients who have no real alternatives.
We requested an interview with Tim Mayleben, the President and CEO of Aastrom, but both his PR and IR folks told us that the management team was "not available at this time." In the near term horizon, we know that Aastrom is approaching the launch of their Phase 3 Revive Clinical Trial for Critical Limb Ischemia.
In a note to investors on the firm's newly re-designed website, CEO Mayleban states: "The importance of our CLI program cannot be overstated, as the need for a new treatment to help the millions of people affected by this terrible disease has never been greater. Having just returned from our clinical investigators' meeting to prepare for the launch of our Phase 3 REVIVE clinical trial, I can attest to their excitement about evaluating our product candidate, ixmyelocel-T, as a potential treatment for people living with CLI who have no other treatment options. We are equally excited about the clinical and commercial potential of ixmyelocel-T following the positive results of our Phase 2b RESTORE-CLI clinical trial, which were presented in November 2011 at the American Heart Association Scientific Sessions."
After yesterday's close, we noted some activity in the technical indicators of the stock which may be signaling a bottom. As such you may want to watchlist the shares to see if they begin to bounce strongly enough to break the downward trend in which they have been stuck in since November.

Astrom has been working closely with the FDA and key medical opinion leaders to develop the protocol for the Phase 3 clinical program.

The BioMedReports FDA and Clinical Trials Calendar indicates that a news release issued in July spoke of the near proximity of that PhaseIII launch: "The SPA from the FDA confirms their confidence that the design of the Phase III clinical trial is suitable to support BLA approval for ixmyelocel-T in this under-served patient population. Given the positive results from their RESTORE-CLI Phase IIb trial, they have a great deal of confidence in their Phase III program and look forward to launching the pivotal study in the fourth quarter of 2011."

When is it launched, the REVIVE clinical trial will be the largest of its kind and an important test and milestone for Aastrom's ixmyelocel-T and certainly a milestone worth noting.

As our colleague, Jason Napodano noted in one of his early coverage reports about the company, "the novel approach to treading disease and the skepticism on Wall Street will keep the stock in "show me" mode. During the first half of 2012, we are looking for at least two more key milestones from Aastrom, including a separate Phase IIb trial initiation for Dilated Cardiomyopathy as well as a report covering 12-month results from the firm's Catheter-DCM Phase II trial.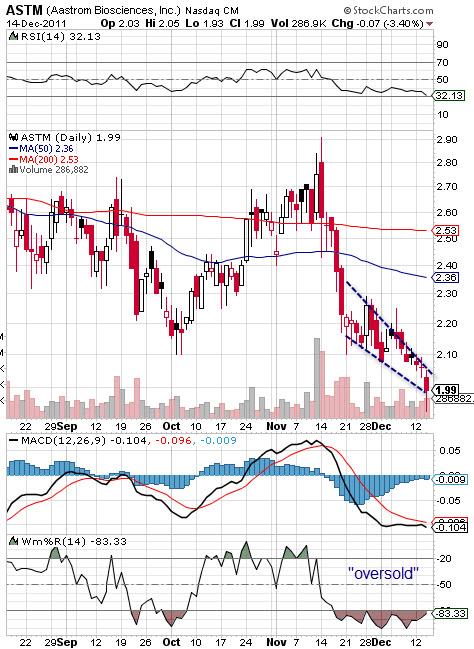 Disclosure: None
"Featured Content" profiles are meant to provide awareness of these companies to investors in the small-cap and growth equity community and should not in any way come across as a recommendation to buy, sell or hold these securities. BiomedReports is not paid or compensated by newswires to disseminate or report news and developments about publicly traded companies, but may from time to time receive compensation for advertising, data, analytics and investor relation services from various entities and firms. Full disclosures should be read in the 'About Us Section'.
---
Add this page to your favorite Social Bookmarking websites

---