By Adam Gefvert, Contributor
Thursday, 19 January 2012 08:16
Hepatitus C drug developers have been drinking champagne and eating caviar lately. Companies in this space that have shown little to no revenues for years have been getting acquired at huge premiums to their share price and for billions of dollars.

Pharmasset (VRUS) was offered $11 billion by Gilead Pharmaceuticals (GILD) in November 2011, for an over 100% premium to the share price. Gilead bought it for its PSI-7797 anti-HCV (Hepatitis C Virus) nucleoside. Bristol-Meyers Squibb (BMY) made a tender offer for Inhibitex over the January 7th weekend for $2.5 billion, a 160% premium over its share price. Also for its anti-HCV nucleoside.

With the recent heavy M&A action in the Hepatitis C space, drug development company stocks that are focusing on Hepatitis C drugs have taken off. Since the Inhibitex buyout on Jan 9, Achillion (ACHN) has gone from $7.92 to $12.95, for a 64% gain. It has since settled down to about $11.

However, Inhibitex and Pharmasset HCV drugs: INX-189, and PSI-7977, respectively, are nucleosides which are a different type of anti-viral drug than those currently used to fight HCV. Nucleosides are believed to be the next generation drug to fight HCV because they have shown in clinical trials to be able to destroy the HCV virus on their own without the aid of other drugs.

Achillion is at a disadvantage to its competitors because none of its HCV drugs in development are nucleosides.

The type of drugs currently used to fight HCV are protease inhibitors which are not able to fight the HCV alone. HCV's mutations are able to resist protease inhibitors, so they must be used along with the standard of care treatment of pegylated interferon and ribavirin (PR) in order to cure patients. Use of a protease inhibitor along with PR gives a 75% chance to cure HCV, while treatment of only PR, the old method of fighting HCV, gives only a 50% chance to cure it.

The problem is, the side effects of interferon are so bad, that many patients would rather have the disease or wait for a better solution than deal with the treatment. Many patients say the side effects are worse than the disease itself.

The fact that big pharmaceutical companies paid so high a price for Pharmasset and Inhibitex nucleosides is a testament to the thesis that the future of HCV treatment is going to be done without interferon.

"We believe the interferon free era will come late 2015 and early 2016 and we would anticipate, from a time perspective, being competitive with that," said Inhibitex's chief executive Russell Plumb.

In the following picture, Pharmasset illustrates the contrast between the present and future of Hepatitis C treatment.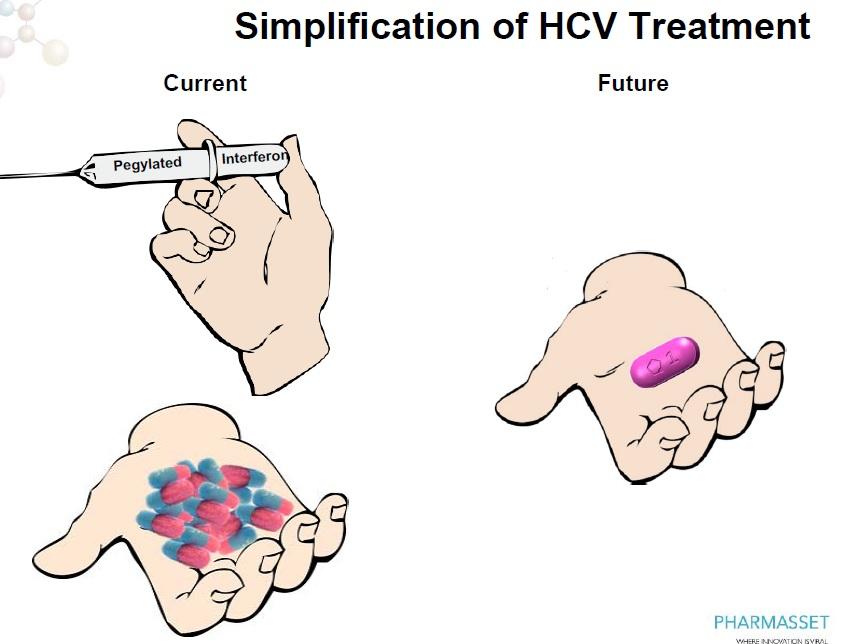 Achillion's most advanced HCV drug that is currently going through phase II trials, is ACH-1625, which is a protease inhibitor. It has been going through preclinical trials since 2008 before it was discovered that nucleosides can efficiently fight the HCV. If ACH-1625 won't work without the help of interferon, then it will pretty much be worthless. By the time it gets to market in 2015 or 2016, if it gets approved, there won't be any HCV patients willing to do a treatment with interferon.
There is a glimmer of hope for protease inhibitors though. In October 2011, Abbott Laboratories and partner Enanta Pharmaceuticals announced positive results from a phase 2 study of ABT-450, their oral protease inhibitor against HCV, without the use of interferon.
"In the trials, 44 previously untreated patients with hepatitis C were given ritonavir with Abbott's ABT-450 and one of two Abbott polymerase inhibitors, ABT-333 or ABT-072, and ribavirin for 12 weeks. All patients who remained in the studies achieved an early virologic response at 12 weeks, and of the 10 patients to date who were tested 24 weeks after completing the treatment course, nine had achieved a sustained virologic response", the company said.
Abbott said it could have this shorter duration combination therapy for hepatitis C on the market in 2015 with annual sales potential of about $2 billion.
Early virologic response is a reduction of 2 or greater log in HCV RNA (hepatitis C ribonucleic acid) at week 12 of therapy, and this predicts sustained virologic response, which is an undetectable level of HCV RNA, at further treatments.
"We are seeing there is another way of achieving a regimen without interferon that looks like it will be competitive, it will eventually all boil down to who has the better data," said Leerink Swann analyst Howard Liang.
However, Brean Murray Carret & Co. analyst Brian Skorney noted that "I continue to believe Pharmasset's [therapy] will be better." (FYI - this was stated before Gilead made the offer to acquire Pharmasset).
Merck is also working on an interferon-free regimen with their protease inhibitor MK-5172. From the company website: "MK-5172 suppressed HCV in patients infected with HCV genotypes 1 and 3. In addition, new in vitro data shows antiviral activity against a wide range of resistant mutant HCV types. The company is actively pursuing the use of MK-5172 in an interferon-free regimen for HCV."
Achillion's ACH-1625 drug hasn't been proven to work without the help of PR. The drug has quite a few obstacles to climb to be worth anything. It would not only have to show effectiveness against HCV without interferon, but it would also have to compete with the nucleosides' data when they come to market, as well as Abbott's ABT-450 if it becomes successful, and Merck's protease inhibitor and those of other big pharma companies. Then there's all the resources and expenses necessary to get it through the trials. Phase III trials alone would likely cost over $100 million.
Besides ACH-1625, all its other drugs in the pipeline are in the preclinical stage or are starting phase 1 trials. It wouldn't make any sense for a big pharmaceutical company to acquire Achillion at its current elevated price. Most of them are already working on their own HCV drugs. For example, Vertex and Alios BioPharma have teamed up to do clinical trials of their nucleoside drugs ALS-2200 and ALS-2158.
As shown in the Q3 2011 report, Gilead Sciences had entered into a research collaboration and license agreement with Achillion in 2004, and is continuing to do a minimal amount of collaborative research with the company, only paying $64K last quarter. Then Gilead went ahead and acquired Pharmasset for $11 billion totally snubbing Achillion. If any big pharma was going to buy Achillion, it would seem that Gilead would've been a good candidate since they have worked together for awhile. Achillion's market cap was only about $400 million in late November when Gilead bought Pharmasset.
It's unlikely that Achillion will be able to find an interferon-free treatment for HPV with ACH-1625 because when the drug was first designed, it didn't have that goal in mind. Now, going through its phase 2 trials, with all the competition, I'm giving it a 15% chance that it will be able to develop an interferon-free regimen and become a top HPV drug with $2 billion a year in revenues like Abbott predicts its ABT-450 drug will peak at.
Achillion's other two HCV inhibitors, ACH-2684 and ACH-2928, are going through phase 1 trials, so I'm giving them a 10% chance to succeed and reach the $2 billion annual sales number. I'm not including in the value calculation Achillion's drugs still going through preclinical trials.
Even if Achillion managed to develop and commercialize a $2 billion a year in sales drug, it would need help to market it as it doesn't have any experience selling drugs. That's why the company is looking for an acquirer, or a big pharma to continue with the trials from here, take on the expenses, and give Achillion royalty payments once the drug hits the market. The latter is the scenario I use in my discounted cash flows analysis.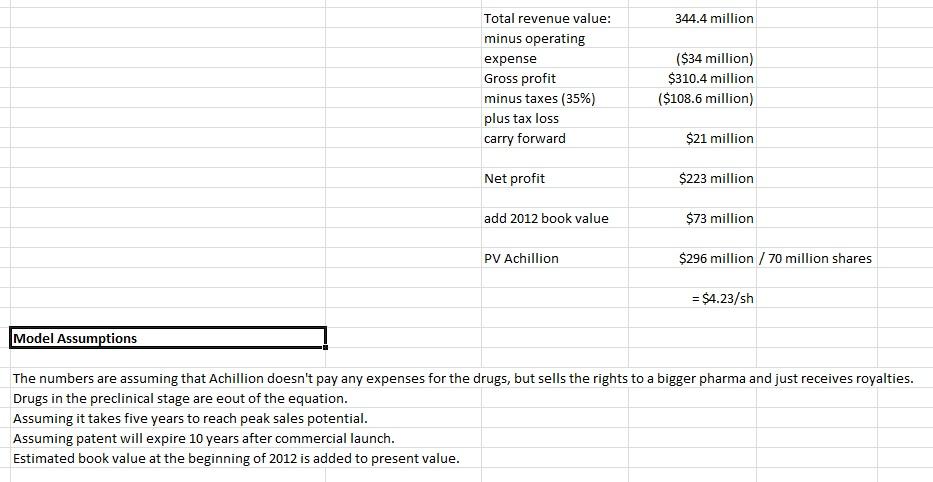 It appears that Achillion's management agrees that Achillion is overvalued and is an unlikely buyout target. Within a couple days of the stock popping up to 52 week highs after the Inhibitex buyout was announced, Achillion insiders dropped massive amounts of shares as if they were hot potatoes burning their fingers. Especially the CEO, who sold almost 300,000 shares, $3.5 million worth, within less than a week of the Inhibitex tender offer.

This is probably because they are insiders and know that a buyout isn't going to happen with their company anytime soon, A lot of investors might say that insider selling isn't a conclusive sign of an overvalued stock, as they might have a lot of different reasons for selling. However, sometimes the way management of a company communicates that its stock is overvalued is by selling shares. They can't come out and say that their company is overvalued, because that would make their shareholders angry. Actions are taken in the place of words in a case like this, and while it isn't conclusive, the selling shouldn't be ignored.



Updated 1/22/12: Corrected a typo which referred to "HPV" instead of "HCV"
"Featured Content" profiles are meant to provide awareness of these companies to investors in the small-cap and growth equity community and should not in any way come across as a recommendation to buy, sell or hold these securities. BiomedReports is not paid or compensated by newswires to disseminate or report news and developments about publicly traded companies, but may from time to time receive compensation for advertising, data, analytics and investor relation services from various entities and firms. Full disclosures should be read in the 'About Us Section'.
---
Add this page to your favorite Social Bookmarking websites

---