By M.E.Garza
Wednesday, 25 January 2012 09:10
Neurocrine Biosciences, Inc. (NASDAQ:NBIX) announced on Wednesday that its VMAT2 inhibitor product candidate, NBI-98854, has been granted Fast Track designation by the U.S. Food and Drug Administration (FDA) for the treatment of neuroleptic-induced tardive dyskinesia.

Tardive dyskinesia is characterized by involuntary, repetitive movements of the extremities, lip smacking, grimacing, tongue protrusion, rapid eye movements or blinking, puckering and pursing of the lips, or impaired movement of the fingers. These symptoms are rarely reversible and there is currently no known treatment.

The FDA's Fast Track program is designed to facilitate the development and expedite the review of drugs intended to treat serious diseases and address unmet medical needs. The Fast Track designation allows more frequent interactions with the FDA during the drug development process, which assures that questions and issues are resolved quickly, often leading to earlier drug approval and access by patients.

Neurocrine's research and development efforts are focused on neurological and endocrine diseases and disorders. Its product candidates address the pharmaceutical markets including endometriosis, stress-related disorders, pain, diabetes, insomnia, and other neurological and endocrine-related diseases and disorders.

"The FDA's Fast Track designation recognizes the significant need for an effective treatment for tardive dyskinesia," said Christopher F. O'Brien, M.D., Chief Medical Officer of Neurocrine Biosciences. "We look forward to continuing to collaborate with the FDA on the development of NBI-98854, and welcome the opportunity for increased interactions with the Agency."

A look at the BioMedReports FDA Calendar shows that a larger, longer term Phase IIb study is planned to be initiated in early 2012 to assess three-month dosing of NBI-98854 in Canada.

VMAT2 is a protein concentrated in the human brain that is primarily responsible for re-packaging and transporting monoamines (dopamine, norepinephrine, serotonin, and histamine) among nerve cells. NBI-98854, developed in the Neurocrine laboratories, is a novel, highly-selective VMAT2 inhibitor that modulates dopamine release during nerve communication, while at the same time having minimal impact on the other monoamines thereby reducing the likelihood of "off target" side effects. NBI-98854 is designed to provide low, sustained, plasma and brain concentrations of active drug to minimize side effects associated with excessive dopamine depletion.

NBI-98854 may be useful in other disorders such as Huntington's chorea, schizophrenia, Tourette's syndrome, and tardive dystonia.

Las October, Neurocrine announced that it had achieved its second milestone in its collaboration with Abbott for elagolix and next-generation Gonadotropin Releasing Hormone (GnRH) Receptor Antagonists. The Company and Abbott held a pre- phase III meeting with the FDA, the outcome of which generated a $20 million milestone payment from Abbott to the Company. This milestone event brings the total milestones achieved by the Company in the third quarter of 2011 to $30 million.

Interestingly, when the stock was trading at $6.42, we told readers that a substantial insider buy had been placed by Mark N. Lampert of the BioTechnology Value Fund, LP and that his buying activity put shares on the higher end of a tight trading range that had been in play for NBIX shares since August.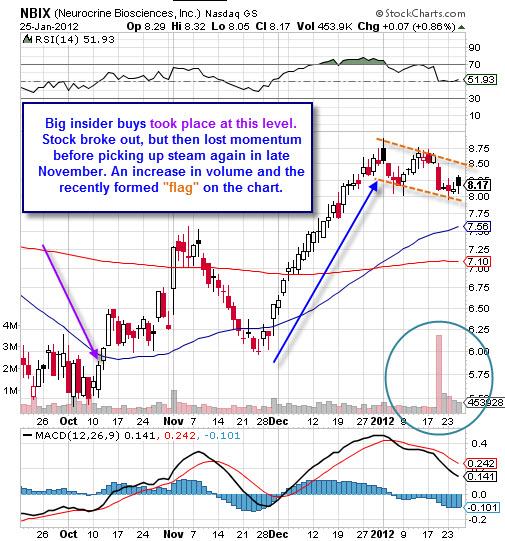 From a technical standpoint, it may be worth noting the flag which has formed on the chart. Flags and pennants are among the most reliable of continuation patterns and only rarely produce a trend reversal. Keep an eye on the trade action here for a possible break-out or continuation. The important thing to remember is that a flag formation like this one is characterized by diminishing trade volume (also seen here). If you can catch the potential breakout early, you may see a substantial move to the upside.
Neurocrine's product pipeline includes: GnRH Antagonist - a peptide that stimulates the secretion of the pituitary hormones that are responsible for sex steroid production and normal reproductive function; NBI-98854 - a potent, highly selective, VMAT2 inhibitor that is effective in regulating the levels of dopamine release during nerve communication, while at the same time having minimal impact on the other monoamines; Urocortin 2 - selectively stimulates the CRF2 receptor and can improve cardiac output with minimal increase in heart rate; GPR119 - a novel target for the treatment of Type II diabetes; CRF antagonists for psychiatric, neurological and gastrointestinal diseases; etc.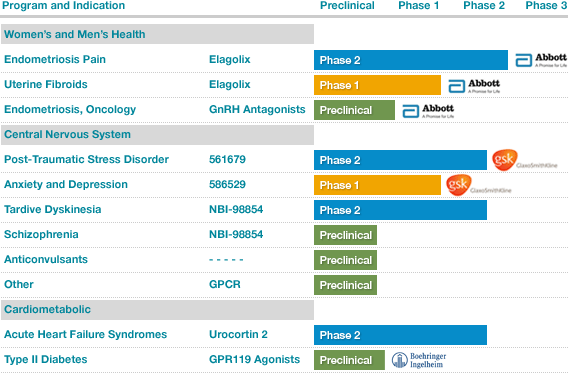 Neurocrine has collaborations with Abbott Laboratories, GlaxoSmithKline plc, Boehringer Ingelheim GmbH, Dainippon Sumitomo Pharma Co Ltd, GeneData AG, The Michael J. Fox Foundation for Parkinson's Research, The Hebrew University of Jerusalem, Protox Therapeutics Inc, Xceleron Inc, Entelos Inc, Iconix Biosciences Inc, and others.
"Featured Content" profiles are meant to provide awareness of these companies to investors in the small-cap and growth equity community and should not in any way come across as a recommendation to buy, sell or hold these securities. BiomedReports is not paid or compensated by newswires to disseminate or report news and developments about publicly traded companies, but may from time to time receive compensation for advertising, data, analytics and investor relation services from various entities and firms. Full disclosures should be read in the 'About Us Section'.
---
Add this page to your favorite Social Bookmarking websites

---