By MarketScanners
Wednesday, 25 January 2012 00:00
The formulas for our technical and fundamental analysis scans which look for stocks under $5 that are showing great signs for bouncing off lows are hitting with good levels of accuracy in one of the most volatile sectors: biotechnology. It is time to update our scorecard and take a look at some of the new hits on our scanner.

In early December, when shares of Affymetrix, Inc. (NASDAQ:AFFX) were trading at $3.78 we told our Seeking Alpha readers that the stock was primed for a rebound. On Tuesday, shares closed at $4.75 up nearly 80% from where we called bottom. For what it's worth, the shares of AFFX are still looking pretty bullish for the near term. We see 35 technical indicators on the stock, and 24 are bullish, 4 are bearish and 8 are neutral.

Fundamentally, Affymetrix is engaged in creating breakthrough tools that drive the genomic revolution and business appears to going well. The company also profits nicely from developing and commercializing systems that provide scientists with microarray solutions, quantitative assays, PCR, molecular biology enzymes, molecular biology kits and reagents, biochemicals, detergents and lipids, etc.

Investors have reacted well after the company announced a couple of weeks ago that they had signed a Memorandum of Understanding (MOU) with BGI, the world's largest genomics organization, to enter into a strategic co-development and co-marketing collaboration.

Another stock identified in an earlier report, ISTA Pharmaceuticals, Inc. (NASDAQ:ISTA) saw shares close at 8.17 +0.02 (0.25%) on Tuesday a significant boost to the price our Seeking Alpha readers paid during the time of our initial report. The price at the time ISTA showed up on our scan was only $3.75 per share.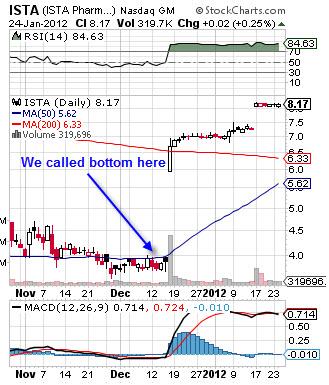 We identified CEL-SCI (AMEX:CVM)(priced at $0.29 at the time) as one of the stocks with potential to bounce higher after it showed up on our "Bouncers Under-$5" proprietary technical scan too.
The stock has had a nice run lately and someone seems to be accumulating a lot of shares at these prices, but it seems the stock is running into some major resistance right along the 200-day moving average.
We saw volume start to spike recently after CEL-SCI's partner, Teva Pharmaceuticals (NASDQ:TEVA), decided to quietly expand the number centers in which Phase III trials of the investigational immunotherapeutic agent is currently being tested as a potential first-line treatment for advanced primary head and neck cancer. Message boards are still buzzing about those developments and others- including an upcoming presentation.
Several times this week, the stock has attempted to break-out past that hurdle, but the market makers seem to keep pulling it back down. At this point, we would just assume move to the sidlelines after the nice run up and wait to see what comes next. The stock is arguably undervalued as a Phase III firm, but the technicals are starting to look like a toss-up despite the possible break-out pattern we spotted on the chart a few days ago. If the price breaks down, we're happy to jump back in, but we are happy to take profits from this nice penny play winner for now.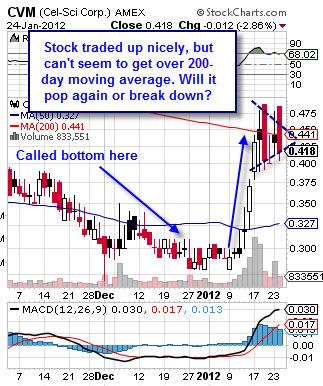 We are also opting to take profits off the table for LPath (OTCBB:LPTN), one of the most talked about biotech plays of the winter that some still feel could be a big winner this coming year.
We wrote about the stock in December and it has made some very nice moves on increased volume since then. Technically speaking, however, the Linear Regression, TRIX, Relative Strength Index (RSI), Positive Volume Index, Moving Average Envelope and Japanese Candlestick indicators are all bearish now and as such, we are calling a top here. In addition to everything else, the company has filed a registration statement to raise up to $10 million through the sale of units comprised of common shares and warrants to purchase common shares. Why wait to be hit with dilution? Wait it out with money in your pockets instead.
Not all of our bottom bouncers were home runs, but the other three companies included in earlier reports did manage to either hold their ground or rise slightly.
Complete Genomics, Inc. (NASDAQ:GNOM) shares were priced at $3.64 at the time of our scan, but traded as high as $4.11 weeks later.
Nabi Biopharmaceuticals (NASDAQ:NABI) rose slightly to $2.02 after our scan at $1.79 and finally AEterna Zentaris Inc. (NASDAQ:AEZS) is priced at $1.61 rose only slightly to $1.70 before losing steam more recenlty. A couple of days ago, the firm announced that they were commencing a new ATM issuance program under which it may sell up to a maximum of 10,400,000 of its common shares up to an aggregate amount of US$16.0 million. The most interesting of these three plays left to trade at the moment is NABI, whose shares have been trading quite predictably within a range for months. We're staying away from the other two for now: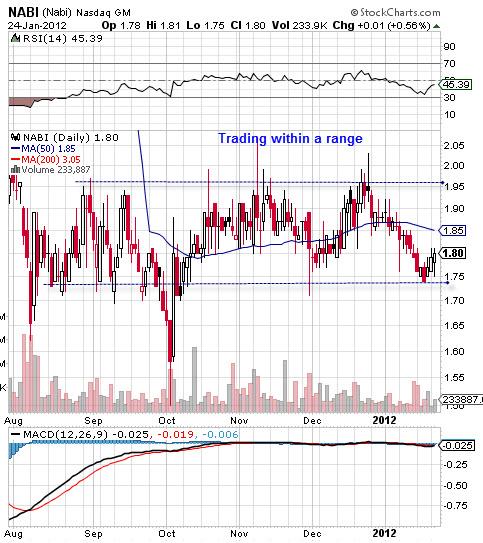 A few days ago we published more research and told readers that we have begun tracking shares of some new bottom bouncers under $5. Inovio Pharmaceuticals, Inc.(AMEX:INO), which is engaged in discovery, development and delivery of DNA vaccines to prevent or treat cancers and chronic infectious diseases jumped out at us at $0.42. The shares have already begun to move-- closing Tuesday up another 8.00%. If nothing else, this is a "flu" stock that tends to trade higher during the winter months. They are advancing universal influenza vaccines and protection against unmatched flu strains and launching a second flu clinical study, for a multi-subtype vaccine against both H5N1 and H1N1. Looking ahead, the firm is also supposed to be reporting preliminary safety and immune response data of their INO-3510 this quarter.
Novavax, Inc.(NASDAQ:NVAX) jumped out at us at $1.30- right before shares jumped to $1.49 the next day. This is another stock that starts to trade higher during this time of year. Especially since Novavax targets its research efforts initially on various strains of viral influenza which include: H1N1 influenza referred to as swine flu, H5N1 pandemic influenza, often referred as bird flu, and seasonal influenza. It has created a VLP-based vaccine to protect against human immunodeficiency virus (HIV), the virus that causes AIDS.
We spotted PharmAthene, Inc.(AMEX:PIP) bottoming out at $1.25 just a couple of days ago. Stock closed Tuesday at $1.32 +0.02 (1.54%) and while there appears to be a nice base building here, we don't see any upcoming catalysts and newsflow that might be in place to push the stock higher. Still, from a purely technical standpoint, some of the indicators at PIP look bullish for the short term.
One stock that does have several upcoming catalysts, including some clinical data likely due in mid February is Ampio Pharmaceuticals, Inc. (NASDAQ:AMPE), whose shares showed up on our scan at $3.81. The company was shorted heavily as they completed a minor financing last month, but we think this one is set to continue climbing both technically and fundamentally given some of the anticipated news flow from some important clinical studies. On Tuesday, shares closed at $4.30 +0.52 (up 13.76%).
Another bottom bounce candidate that may continue to have some important newsflow developments is GelTech Solutions Inc. (OTCBB:GLTC.OB), creators of FireIce, a water enhancing fire suppressant that has the potential to change current firefighting techniques globally. This stock was trading over $1 per share in the fall but shares are now 82.93% lower than their 52-Week High of $3.75. The beating was made worse after they announced a financing for $5 million with Lincoln Park Capital, the Chicago-based institutional investor. Still, more countries and distributors are starting to take notice of not only their fire prevention product, but also the firm's non-toxic soil conditioner and a dust abatement product. Yes this is biotechnology, not bio-medicine, but these are revolutionary developments and they won't stay under wraps for long. Especially since the overhang from a previous financing appears to be getting ready to lift.

Bacterin International Holdings (AMEX:BONE) showed up on our scan after announcing that for the fourth quarter of 2011, it expects revenues of $9 million to $11 million. The Company feel comfortable with the guidance for fiscal 2012 revenues of $53 million to $56 million. Shares have just broken above the 50 and 200 day moving average and appear ready to break-out even higher.
We will check back to see if these new stocks were indeed getting ready for a move higher. Remember that we hedge our bets by basing these picks on not only fundamental factors, but also advanced charting and market analytics formula which looks for trending factors on a stock chart, including an analysis of the firm's Weekly Williams %R (both one and two days ago) as well as the Stock's Weekly Relative Strength Index (also for the past two days), and other factors such as Bear Power (BEARP) and Bull Power (BULLP), technical analysts are able to set and apply various histograms. We are also tracking other specific points on the Moving Average Convergence Divergence of a stock and in the end, coming up with a mathematical formula which yields these specific results.
"Featured Content" profiles are meant to provide awareness of these companies to investors in the small-cap and growth equity community and should not in any way come across as a recommendation to buy, sell or hold these securities. BiomedReports is not paid or compensated by newswires to disseminate or report news and developments about publicly traded companies, but may from time to time receive compensation for advertising, data, analytics and investor relation services from various entities and firms. Full disclosures should be read in the 'About Us Section'.
---
Add this page to your favorite Social Bookmarking websites

---