By M.E.Garza
Monday, 19 March 2012 14:10
Shares of Ampio Pharmaceuticals (NASDAQ:AMPE) rocketed over 60% to a high of $4.58 on Monday after the company decided to end a study for its ophthalmology drug Optina™ ahead of schedule due to positive preliminary results and there are plenty of hints that the bulls may not be done here.


On Monday, volume soared after the firm announced that it had completed the planned interim review of the first 50% of patients enrolled in the Optina™ trial for

diabetic macular edema

. A preliminary assessment, of the primary end point indicated a beneficial and consistent effect with the ultra-low dose of Optina™ at 4 and 12 weeks of treatment and no apparent benefit at the high dose. These preliminary results are in keeping with the in-vitro data, which demonstrated a biphasic effect of the drug and Dr. Vaughan Clift, Chief Regulatory Officer of

Ampio

, stated that: "Based on these positive and encouraging results and the potential of lack of efficacy at the higher doses, both doses being present in this study, Ampio decided to conclude this study ahead of schedule and to proceed with the preparation of a consultation package for the FDA that includes the basic science and clinical results for discussion of the design of a pivotal trial in the US under the 505(b)2 regulation for repurposed drugs.

The release of that data now becomes a forward looking trade catalyst for biotech traders and investors. Dr. Clift indicated that a detailed analysis of the study results will follow pending the completion of data analysis by AMPE's

Contract Research Organization

.

There are other indications that the stock may not be done running, particularly given the bullish commentary by Michael Macaluso, the Founder and Chief Executive Officer of AMPIO Pharmaceuticals who told investors in an exclusive video interview with BioMedReports earlier this month that if 2011 was the firm's year to get their drug candidates into clinical trials, then 2012 would be the year to prove that those drugs really work. "We expect very good results and believe they will be the stepping stone for this company," explained Macaluso. "We hope to move into the future with a much higher valuation."

Ampio's shares had traded as low as $2.57 despite a recent announcement regarding statistically significant improvement in pain relief from their drug candidate

Ampion

™ in a different clinical trial. Late last year, the company was the target of short selling funds which had published factually inaccurate and materially misleading information about the firm. Various anonymously published articles crippled the stock price and injured the reputation of the company before regulators launched their own investigation into the matter following reports about the alleged market manipulation. Investigations by at least one regulatory agency continue.

As you may know, Ampio discovers and develops new uses for previously approved drugs and new molecular entities. A 505(b)(2) application permits a company to obtain the FDA's approval by relying on the agency's findings for a previously approved drug, and thus reduces the time and development cost on the drug.

The pathway to approval is de-risked signficantly for investors using this model and is one of the reasons why Ampio's share traded as high as $9.27 before the coordinated bear raid by short sellers.

Dr. David Bar-Or, Chief Scientific Officer of Ampio, noted, "Diabetic retinopathy is damage to the retina of the eyes caused by complications of diabetes mellitus and often resulting in loss of visual acuity and blindness. Macular edema of the eyes is often an early form of diabetic retinopathy that causes significant vision loss. Almost all Type 1 diabetics and more than 60% of Type 2 diabetics will develop retinopathy.

"There is no effective daily drug treatment for diabetic retinopathy other than general measures, such as controlling blood sugar, hypertension, blood lipids, etc. Due to the global diabetes epidemic, diabetic retinopathy is recognized as a high unmet medical need that would benefit from having oral therapeutic options available. The only treatments available for macular edema now are laser therapy, injection or implantation of drugs into or around the eyeball (not approved in the US or Canada). To our knowledge, Optina™ is the only proposed oral treatment for this condition."

Given the market potential for all three of AMPE's drug candidates and the firm's low float, this one continues to be well positioned as a Biotech Bull for 2012.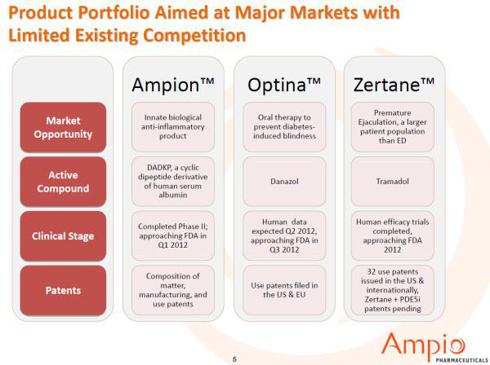 Disclosure: None
"Featured Content" profiles are meant to provide awareness of these companies to investors in the small-cap and growth equity community and should not in any way come across as a recommendation to buy, sell or hold these securities. BiomedReports is not paid or compensated by newswires to disseminate or report news and developments about publicly traded companies, but may from time to time receive compensation for advertising, data, analytics and investor relation services from various entities and firms. Full disclosures should be read in the 'About Us Section'.
---
Add this page to your favorite Social Bookmarking websites

---