By Michael Morhamus, Contributor
Thursday, 22 March 2012 13:42
Last December, I warned investors to be cautious of CytRx Corporation (CYTR) and any deal or off-spring company related to them. Now this.

In that article, I mentioned how despite massively dilutive money raises backed by multiple false starts and rumors nothing much ever came of the highly touted RNAi technology platform being developed at the firm's spin-off RXi Pharmaceuticals Corporation (formerly trading on the Nasdaq as "RXII" but then transformed into Galena Biopharma (GALE) after re-inventing itself. At the time, RXII was supposedly being considered for acquisition by the likes of Pfizer (PFE), and each time the stock ran on those rumors, big money raises occurred. There is little doubt that a lot of people and stock promoters made significant amounts of money on those big runs, but unfortunately, long term shareholders were not among them. On the back of at least 8 positive press releases (16 official proclamations total) since January 1 of this year, GALE has been climbing the charts.

Even if we don't include the conditional dividend news, which really helped push the stock recently, Galena Biopharma's stock has been on an impressive run-- capped yesterday by 42% gains which helped the firm make the list as one of Nasdaq's 10 most active stocks at the close of trading.

As one of the stock's cheerleader's just pointed out, "GALE is one of the leaders in YTD performance, and has been led higher as investors realize its value. The company has a late-stage drug that treats breast cancer, and has shown incredible results. So far in 2012, as the company continues making strides and reaching new milestones the stock has returned mind boggling gains."

And while many are hoping that the stock's rally continues, I'm left wondering about an e-mail I got from Penny Stock Rumble -- a website "that enters ALL penny stock picks from over 600 penny stock promoters daily." At the end of the day, they choose a "winner" based on % gain AND $ volume.

Guess which paid penny stock promoter, or should I say promoters, were awarded the site's prize on Wednesday? (See the screen capture of the email below.)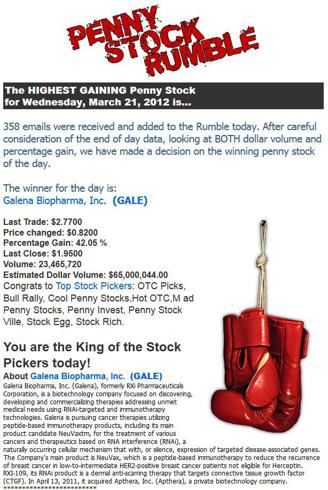 That's right. As pointed out by the mandatory disclaimers on each of their pages, eight penny stock promoters were lucky enough to (get paid) to "pick" and promote Galena Biopharma: OTC Picks, Bull Rally, Cool Penny Stocks,Hot OTC,M ad Penny Stocks, Penny Invest, Penny Stock Ville, Stock Egg, Stock Rich.
According to the trackers at Penny Stock Rumble, the stock's priced increased: $0.82 and gained 42.05% on their efforts. The trading volume was an astounding 23,465,720 shares (nearly 3,000% higher than the daily average volume) with an estimated dollar volume of $65,000,044.00
Congratulations, indeed.
In fact, we're already being told this rally may not be over. And that Galena's patent creates both immediate and long term upside. That may or may not be true, but one thing is certain. Institutions and funds who buy stocks consider highly promoted stocks "toxic" and this one is quickly headed there.
For now, investors are left hoping that Galena will actually show more success than any of the products which have been paraded in front of them by the same group of stock showmen, IR firms and deal makers over the years.
A scan through some of the comments posted on the very articles pumping the stock show that some readers are feeling weary of the data that has been presented by Galena thus far. On the flip side, all weekend long, message boards were full of rumors pointing to Gamena as (you guessed it) another potential acquisition target by Big Pharma.
It's hard to know what to beleive, so in this case I'll simply go with my gut, which asks: "Why would a stock that is about to be acquired be the subject of such heavy promotion?"
My gut turns as I look at the long list of registration statements filed by the company with the SEC. With an open registartion to do a financing, shouldn't the company be in a "quiet period" right now? Why and how does the SEC allow retail investors to get hurt by allowing this?
And then there are the ugly losses which have not only already been posted but are expected to continue at Galena.
As filed with the SEC in their own words: "The Company has not generated any revenues since inception nor are any revenues expected for the foreseeable future. The Company expects to incur significant operating losses for the foreseeable future while the Company advances its future product candidates from discovery through pre-clinical studies and clinical trials and seek regulatory approval and potential commercialization, even if the Company is collaborating with pharmaceutical and larger biotechnology companies. In addition to these increasing research and development expenses, the Company expects general and administrative costs to increase as the Company recruits additional management and administrative personnel. The Company will need to generate significant revenues to achieve profitability and may never do so."
In fairness, after the last time I explained the ties and history between GALE and CYTR there was some very pleasant communication with a legal representative.
The legal counselor of record at CYTR reached me through a third party. Note that I have offered others the opportunity to clarify the accuracy of my articles. Other companies and their management teams jumped at the opportunity to correct me, but in this case I was told that CYTR management would not agree to answer every one of my questions -- the only condition I set forth as part of a "set the record straight" interview.
After this recent run by this offspring of those same players, I'm left with an even longer list of inquisitive possibilities to choose from the next time I'm contacted and make the same offer.
Beware the GALE force winds, my friends. Beware.
Disclosure: I have no positions in any stocks mentioned, and no plans to initiate any positions within the next 72 hours.

Author Michael Morhamus is Seeking Alpha Certified contributor and independent/boutique research firm analyst.
His firm provides investment products and solutions for institutions and individual investors and he pays particular attention to small and mid-cap companies in emerging markets.


"Featured Content" profiles are meant to provide awareness of these companies to investors in the small-cap and growth equity community and should not in any way come across as a recommendation to buy, sell or hold these securities. BiomedReports is not paid or compensated by newswires to disseminate or report news and developments about publicly traded companies, but may from time to time receive compensation for advertising, data, analytics and investor relation services from various entities and firms. Full disclosures should be read in the 'About Us Section'.
---
Add this page to your favorite Social Bookmarking websites

---