By Staff and Wire Reports
Monday, 07 May 2012 00:00
This article highlights and digests some of the information we covered in a recent video interview with Coronado Biosciences.

Last

week

,

Coronado

(

NASDAQ

:

CNDO

) announced that Phase 1 TSO Data

will

be

presented

as

an

oral

presentation

at

the

8th

International

Congress

on

Autoimmunity

to

be

held

May

9

-

13

,

2012

in

Granada

,

Spain

.

Why

should

investors

care

?

If you don't yet know what this biopharmaceutical company is up to and why this is one of the most intriguing biotech plays in healthcare, then chances are you haven't heard about TSO (Trichuris suis ova or CNDO-201).

This treatment is made up of microscopic eggs of the porcine whipworm and while you may not yet understand it, there is more and more evidence that this novel, orally administered, natural immunomodulator regulates T-Cells and pro-inflammatory cytokines.

We interviewed CEO Bobby W. Sandage, Jr., Ph.D., and asked about the use of porcine whipworm eggs as a promising therapeutic agent is based on the "hygiene hypothesis" and numerous animal and human studies which presented truly compelling data.

BioMedReports: Bobby, what a great opportunity to talk to you about something called the hygiene hypothesis. This was a study that was done in the 1980s by a group of three doctors that were gastroenterologists at the University of Iowa and they had a theory, a hypothesis. They observed something very interesting happening in North America and particularly in Canada as well, these highly developed countries, that they didn't see happening in other countries. Tell us a little bit about that because this is where your story starts.

CNDO CEO Bobby W. Sandage, Jr., Ph.D.: "So the hygiene hypothesis developed by three gastroenterologists at the University of Iowa in the mid early 1980s, Dr. Joel Weinstock who is the chief of gastroenterology there, Dr. David Elliott, and Dr. Robert Summers. What they had observed in their practice was an increase in the incidence of people showing up for treatment with Crohn's disease and ulcerative colitis, that's what they focused on, and inflammatory bowel disease. Like many people in this particular area, they were focusing on what was causing this increase. They put their heads together and came up with the idea that maybe instead of like everybody else was focused on, something in the environment, maybe a genetic component, that maybe it was something that was taken out of system. It turns out that Dr. Weinstock is not only a gastroenterologist but an immunologist and now a parasitologist as part of his credentials.

"So they developed this hypothesis that because of the distribution of this increase in autoimmune disease has been seen in the industrialized world that maybe it was the lack of, were no ever exposed to helminths, intestinal helminths or intestinal parasites anymore. Their hygiene hypothesis was developed as a phenomena where you see an increase in autoimmune disease in an industrialized world, other parts of the world the incidence is low and steady and not increasing. If you then look in those same areas where the incidence is low and steady and not increasing, there's estimated about 1 billion people are chronically infected with intestinal helminths, intestinal worms, parasites. So their hypothesis simply stated is if you never got exposed to an intestinal helminth then you may not be able to properly regulate your immune system, especially if you have a predisposition to one of these autoimmune diseases."

BioMedReports: Fascinating. So to break it down for people, what we're saying is here we have these highly developed nations, unlike the rest of the world, we're not getting exposed to-- for example-- ill prepared pork or something which might have a parasite in it. We're not consuming those types of things and therefore that may be part of the reason why we have higher rates of autoimmune diseases?

CNDO CEO Bobby W. Sandage, Jr., Ph.D.: "Well that's what the hygiene hypothesis and it's so well accepted in the medical community that there are literally dozens of investigators that are exploring helminths as a potential treatment for various autoimmune diseases in animal models and in human trials. We happen because of the work at the University of Iowa have the only product that we think can be safely used and managed in a human population."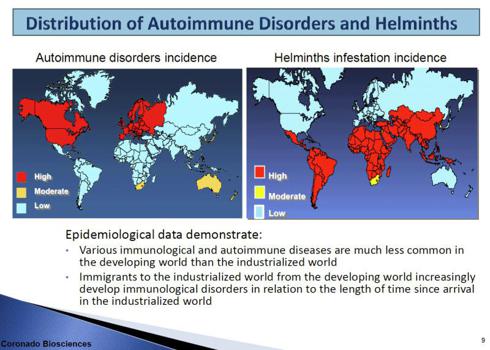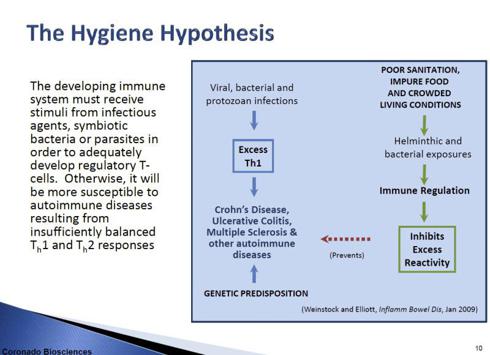 The management team and early investors behind Coronado Biosciences chose TSO as the biological agent precisely because it is not a human pathogen, and is spontaneously eliminated from the body just weeks after dosing. What these organisms appears to do while they are in the human body, however, is what is causing the medical community to take a long, hard look at the implications presented by this discovery for many, many autoimmune diseases.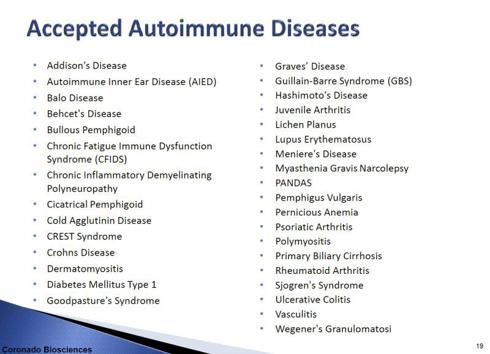 BioMedReports: So this "helminth," this is a very fancy, scientific word for something? Is it a parasite? What is it?

CNDO CEO Bobby W. Sandage, Jr., Ph.D.: "It's an intestinal worm, it's an intestinal parasitic worm and the one that we used that was invented at the University of Iowa by these three doctors we call it TSO. It's short for Trichuris ova and it's the pig whipworm eggs if you will. TSO, Trichuris was selected by the inventors at the University of Iowa because it had a number of features that were beneficial to human exposure. One, when you take it, it causes the immunological immuno-modulating response that you want but it doesn't cause any permanent infection and they simply die in a couple of weeks and are eliminated from the body. You have to take it every two weeks to continue to get the effect. It has some other features. It never leaves the GI tract, doesn't get in the bloodstream. There's no way to infect another person with it and it turns out the ova or the eggs are very stable and I can put it through what it needs to do to become a pharmaceutical grade dosing unit."

BioMedReports: And that pharmaceutical dosing unit, it's not like drinking a tequila worm or something is it? I mean..

CNDO CEO Bobby W. Sandage, Jr., Ph.D.: "No. In fact, the TSO, the eggs themselves if you will are microscopic, you can't see them. When we put 2500 eggs in 15 cc or a tablespoon of normal saline, they're clear, odorless, and tasteless and you simply drink that once every two weeks. You can't even see it. It looks like clear water."

BioMedReports: And theoretically and in these studies that you've conducted thus far when people take this clear liquid, this clear odorless liquid, you start to see an effect in their body's reaction. The Crohn's disease, these autoimmune diseases, pardon me if I'm wrong but this has implications beyond Crohn's in some of these other intestinal tract diseases, right?

CNDO CEO Bobby W. Sandage, Jr., Ph.D.: "Absolutely. We have four studies completed. The first one was done in 29 patients with Crohn's disease where we were able to demonstrate that over 72% of the patients had clinical remission at the end of 24 weeks of treatment and almost 80% had a clinical response. We also have a double-blind, placebo-controlled trial in ulcerative colitis patients in where the placebo rate was about a 17% response whereas the TSO group had a 43% response, more than doubling the response rate in the patients with ulcerative colitis. Then we have an initial trial in multiple sclerosis where the investigator at the University of Wisconsin showed a 70% reduction in what's known as a gadolinium-enhanced MRI lesion so a surrogate of the disease of the neurons found in multiple sclerosis patients. When he stopped the treatment it went right back up to having diseased neurons.

"The fourth study is a study we just finished in which it was called a single-dose dose escalation. We went up to very high doses, more eggs, up to 7500 eggs and it was extremely well tolerated with only mild GI side effects being seen in just a few people that were self-limiting and didn't even require any treatment."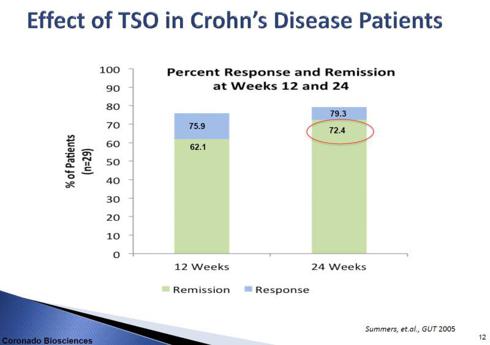 BioMedReports: We've spent a lot of time talking about the hygiene hypothesis; we're not even yet talking about the other side of the coin here, which is the immunotherapy side. But this is intriguing to me because the rest of Wall Street has kind of taken this approach of, 'well, you know, we're talking about a biologic, we're talking about a very interesting biologic, would the FDA really ever approve this?' But your money guys, the investors that are in this are saying watch and see. This is a very interestingly produced, manufactured GMP quality process. Tell us about that a little bit.

CNDO

CEO

Bobby

W

.

Sandage

,

Jr

.,

Ph.D

.:

"

So well, we actually use mother nature to do it. We control a master ova bank. We actually raise pigs from birth, we infect the pigs, the ova will turn into worms and reproduce and shed eggs and we collect those eggs. Any one batch can produce anywhere from 50 to 100 million eggs. We then send them to the manufacturing facility that sterilizes them, test them for contaminants, and then put them in individual dosing unit."

BioMedReports

:

It appears that you have really a powerful management team behind this company.

CNDO CEO Bobby W. Sandage, Jr., Ph.D.: "Very experienced management team and board of directors. I have over 32 years in the business in drug development. The executive chairman Glenn Cooper, over 25 years. He and I helped manage Indevus Pharmaceuticals for almost 20 years before we sold it to Indo in 2009. Noah Beerman is the COO, 25 years in the business, former president and CEO of another biotech company. A very well respected Wall Street analyst just joined as CFO, this is Dr. Lucy Lu. Dr. Eric Rowinsky the world-renowned oncologist is the vice chairman of the company. The founder and director of the company, Dr. Lindsay Rosenwald is probably one of the most successful biotech entrepreneurs ever."


Observations:

Dr. Lindsay A. Rosenwald, M.D.- who among other things, helped shape and sell Cougar Biotech for $1 billion in cash to Johnson&Johnson in record time back in 2009-- is placing a big bet on CNDO; telling me candidly about his hopes for Coronado; one of his "all-time favorites."

Despite attempting to run and stay higher, the big-board listed stock continues to find it's way back to the $6.50-$7.00 range. As investors have begun to discover the emerging biotech company, new speculators appear captivated by the science and Coronado's story, but it may take the type of data seen in earlier studies to really sell Wall Street into buying and keeping Coronado shares. I would not bet against that scenario or the senior managers, board of directors and the scientific advisory board. The list here reads like an impressive who's who and this is a company built not only for the race, but to get across the finish line.

The

BioMedReports

FDA

Calendar

shows

several

milestones

for

the

company

,

including

some

key

data

reveals

this

year

.



We

invite

our

readers

to

become

familiar

with

Coronado

Biosciences

and

their

investment

proposition

whose

investment

highlights

include

:

•

A

Focus

on

autoimmune

diseases

and

cancer

immunotherapy


•

Two

biologic

product

candidates

in

clinical

stage

development


•

Novel

treatment

approach

with

broad

therapeutic

applications

addressing

multi

-

billion

dollar

markets


•

Completed

four

clinical

trials


-


CNDO

-

201

:

Trichuris

suis

ova

(

TSO

)

in

Crohn

'

s

Disease

,

Ulcerative

Colitis

(

UC

)

and

Multiple

Sclerosis

(

MS

)
-


CNDO

-

109

:

Tumor

Activated

NK

Cells

in

relapsed

Acute

Myeloid

Leukemia

(

AML

)
•

Strong

proprietary

property

position


•

Experienced

management

team

and

board

of

directors





Keep

CNDO

on

your

watchlist

they

could

be

on

to

something

big

with

these

porcine

whipworm

eggs

.

Really

.



Disclosure: None

"Featured Content" profiles are meant to provide awareness of these companies to investors in the small-cap and growth equity community and should not in any way come across as a recommendation to buy, sell or hold these securities. BiomedReports is not paid or compensated by newswires to disseminate or report news and developments about publicly traded companies, but may from time to time receive compensation for advertising, data, analytics and investor relation services from various entities and firms. Full disclosures should be read in the 'About Us Section'.

---
Add this page to your favorite Social Bookmarking websites

---